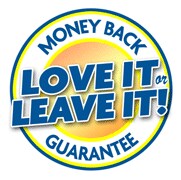 Sometimes you make mistakes. Sometimes we make mistakes.
Our common goal at our dealership is to find you a vehicle that you are totally satisfied with. If you do choose to purchase a new or used vehicle from us and change your mind for any reason though, you have 72 hours to get your money back; guaranteed. * The 72 hour window begins once the customer has possession of the vehicle. 
If you have any questions, concerns or would like more details, please reach out to our General Manager, David, at (316) 869-2145. You can also reach us anytime by filling out our
contact form.
We look forward to hearing from you! 
                                        *Mileage and Vehicle condition restrictions apply. See store for details.