The 2021 Subaru Love Promise Community Commitment Award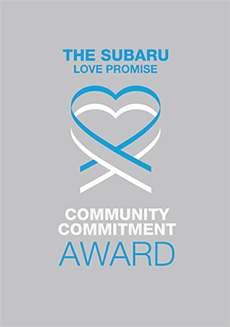 We've been nationally recognized for our dedication to our community and the Subaru Love Promise.
We're honored to receive the 2021 Subaru Love Promise Community Commitment Award. This award nationally recognizes Subaru retailers who are making the world a better place while demonstrating an outstanding commitment to supporting passions and causes in local communities. These efforts are focused in important areas such as the environment, community, health, education, and pets.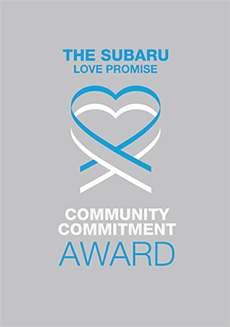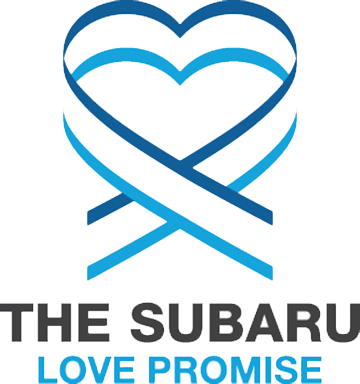 What is the Subaru Love Promise?
Subaru and our retailers believe in making the world a better place and the Subaru Love Promise is our vision of respecting all people. This is our commitment to show love and respect to our customers and to work to make a positive impact in the world.
How is Subaru of Wichita dedicated locally to the Love Promise?
Our Love Promise can be seen in various partnerships with local charities and non-profits. We're grateful for the opportunity, not only to be a part of our community but to serve it as well. We operate our dealership by the Golden Rule: Do unto others as you would have them do unto you. Our goal is to operate a fun, successful dealership that makes a difference in the lives of our co-workers, customers, and community.
Kansas Humane Society, Beauties and Beasts, Clear the Shelter, Hands of Hope Rescue
Kansas Learning Center, Kansas Youth Empowerment Academy, USD 259 (Teacher Appreciation), Various School Sponsorships, Various Community Events
Love Your Community Awards w/ KWCH TV, St. Anthony Family Shelter, Catholic Charities, Wichita Childrens Home, Wellington Children's Home, ICT SOS, Church on the Street, Fair Immigration Reform Network, Faith Builders
Genesis Foundation for Fitness , Leukemia & Lymphoma Society, Blounts Disease Strong Foundation, Meals on Wheels, Harbor House, Union Mission Rescue, Cornerstone of Care - Pathways Wichita, Senior Services of Wichita
Love Promise Stories from Subaru of Wichita
Subaru and Subaru of Wichita believe in making a positive impact on the communities in which we live and work. We uphold that belief through our Love Promise Community Commitment. Every month, we select inspiring stories from customers and partners from around our area who strive to support our collective commitment and feature them here
It's Trunk or Treat Time at Subaru of Wichita - Hannah T
It's time to get this party startled! Join us at the dealership for our Annual FREE Trunk or Treat and October Subaru Owner Meet Up, on Friday, October 29, from 4:30 to 6:00 pm. Drive up in your decorated car and dressed in your best costume, and enjoy a spook-tacular night with a bouncy house, games, Ziggy's Pizza, and most importantly, tons of fang-tastic candy! There will be prizes for best costume and best-decorated car. We hope to see all of you there!
---
Subaru Loves Pets $25 Adoption Event - Hannah T
It's time to help clear the shelters and adopt your new best friend! Visit the Kansas Humane Society, at 3313 N Hillside St, on Saturday, October 23, from 11 am to 6 pm, for the Subaru Loves Pets Adoption Event. Adoption fees will be $25 for adult dogs, kittens, and tween cats. Adult cat adoptions are Pick Your Price. Subaru of Wichita is proud to partner with ASPCA and the Kansas Humane Society to host this event, and we hope all the animals at the shelter find their forever homes! Additionally, Subaru of Wichita will donate $100 to the Kansas Humane Society for every pet adopted during October. For additional details and disclaimers, please visit: https://www.kshumane.org/news-events/blog/986-subaru-adopt102321.html *Subaru Retailers will donate $100 for every pet adopted from partner shelters from October 1, 2021, through October 31, 2021, up to $3,100 in total.
---
Subaru Loves Pets and Woofstock - Hannah T
Subaru of Wichita was a proud sponsor of the 25th Anniversary of Woofstock on October 2nd. Thousands of pets and pet owners braved the rain and came out to Sedgwick County Park to support the Kansas Humane Society's annual fundraiser. At our Subaru Loves Pets booth, we hosted a raffle of Subaru swag for humans and pups, and we gave away hundreds of frisbees, bandanas, poop bags, LED collar lights, and even a few BARK Subaru Outback dog toys. We even had two Subaru models at our booth for attendees to check out. We met so many adorable pups and many loyal Subaru families. KHS raised over $147,000 to help provide medical care, food, and shelter to thousands of Wichita's homeless and abandoned animals. We love pets at Subaru of Wichita, and we are honored to support the Kansas Humane Society in all the great things they do to help Wichita animals.
---
No Tricks, Just Treats at Clapp Park - Hannah T
Calling all pumpkins, ghosts, and witches! It's almost trick or treat time. Subaru of Wichita is proud to team up with the Wichita Police Department, City of Wichita Parks & Recreation, and the Wichita Parks Foundation by sponsoring this year's Candy Crawl at Clapp Park. Come on down to Clapp Park, located at 4611 E Harry Street, on October 22, from 6 pm to 8 pm. Show up in your best costume and with your candy bag or bucket in hand and follow a one-way route where vendor booths will hand out free candy and prizes for all children. For more information, please visit: https://www.wichita.gov/ParkandRec/Pages/CandyCrawl.aspx
---
Join Subaru At Woofstock 2021! - Hannah T
Subaru of Wichita is once again proud to be a sponsor of Woofstock! Join us for the 25th Anniversary of Woofstock at Sedgwick County Park on Saturday, October 2, 2021 from 10 am to 4 pm. Bring your dogs and family out to fall's fluffiest festival and the Kansas Humane Society's largest annual fundraiser. Participate in the Woof Walk & Breakfast, listen to live music, compete in stage contests, hang out at the beer garden, shop at vendor booths, and chow down with the food trucks. Check out activities like ruff races, doggy agility course, kid's play clinic, dog lure course, photo booth, live demos from the WPD's K-9 Unit, and more. We hope to see you and your pups there!
---
Subaru Loves Learning and Teachers at Jardine - Hannah T
We were proud to partner with Jardine STEM and Career Exploration Academy to adopt a classroom during our Subaru Loves Learning Event! During August, we accepted school supply donations and asked every person who visited our showroom to write an apple of gratitude to thank teachers for all they do for students. We were so happy to drop off all of the supplies we collected and see how excited the teachers and students at Jardine were. Thank you to everyone in the community who donated and helped us make this happen!
---
Sharing The Love With ICT S.O.S - Erica W
We're so excited to share our partnership with ICT S.O.S! Through our Share The Love campaign this summer, we proudly donated $15,221 to this hard-working non-profit! ICT S.O.S have been connecting human trafficking survivors to community resources for over 10 years and have recently expanded their services. We're happy to support their mission of fighting sex trafficking and grateful that we were able to donate such a large amount of money. We wish this Wichita-based organization the best on creating real and lasting change right here in our city.
---
Subaru Pet Photo Day - Erica W
We were excited to host Pet Photo Day this spring! Everyone and their dog (literally) were invited for a free photo shoot at our dealership. We love pets and wanted to give our customers, employees, and dog lovers a chance to pose with their furry friend. Everyone that participated received free digital photos of their pet (in front of their chosen backdrop) and a complimentary Subaru bandana. It was a great way to interact with our community and look forward to more pet events this year!
---
Subaru To The Rescue - Erica W
During the cold snap and unbelievable freezing temperatures our community faced, our Sales Professional, Demetrius, donated 4 large boxes of 100 blankets to the Union Rescue Mission! The winter didn't stop us from supporting this organization's mission of helping the homeless and hungry by providing food, shelter, and a safe place to change their lives through life changing programs. The Union Rescue Mission has been serving the Wichita, KS area for over 70 years and we were grateful for the opportunity to help them make a difference. Visiting with them during this donation has opened the door to future community involvement and we encourage everyone to check them out!
---
Subaru Supports Meals on Wheels - Erica W
Over the holidays, our team thrived during our Subaru Share The Love Event! With every new Subaru purchased or leased, we proudly donated $250 to the charity of our customer's choice! This included Meals on Wheels – a program designed to deliver meals to senior citizens living at home. We partnered with Senior Services of Wichita to help spread the word of our campaign to hopefully gain exposure to the Meals on Wheels program. This involved our team signing holiday cards for the Senior Services of Wichita team to deliver to their clients, hosting a small panel of Senior Services experts on the effects of social isolation, and our Sales Specialists, Emilee & Demetrius, volunteering to deliver meals on their days off. We're pleased with how the campaign ended and the wonderful folks we helped and met along the way. We look forward to working with our friends again and encourage everyone to support the Meals on Wheels program.
---